Image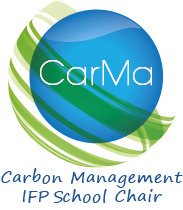 The second Scientific Council of CarMa was held on November 30 and December 1, 2020. The first year of scientific activity of the chair was presented to the Scientific Council by the co-holders of the chair and fully approved. The program for the second year was also discussed and approved by the Council, which recommended it to the Steering Committee held on December 8. 
Three new research topics have been validated, two doctoral works and one post-doctoral work focusing the activity of the CarMa Chair on BECCS topics.  These research projects will broaden the CarMa Chair's partnerships with new collaborations with CNRS and INRAE and their associated laboratories in charge of the research projects or their supervision.
The first thesis proposed by IFPEN will focus on the negative emission potential of CCU technologies and is expected to start in the second half of 2021. 
The second thesis proposed by CNRS in partnership with UPPA will address the societal issues associated with the deployment of BECCS. This research work should start mid-February 2021.
The third topic proposed by INRAE will focus on the co-benefits and antagonisms of the deployment of BECCS through a systemic modeling approach. This research work is expected to begin in the second half of 2021.