PhD Student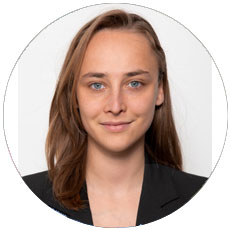 Emma Jagu has joined the Economics department of IFP School in October 2019 to start her PhD work on the deployment of BECCS (Bio-Energy with Carbon Capture and Storage). 

She formely gratuated from CentraleSupélec, ESCP Europe and Université Paris-Saclay with a triple Master's degree in Electrical Engineering, Management, and Energy Economics.
During her student time, she participated in COP22 and COP23 as a representative of the REFEDD (Réseau Français des Etudiants pour le Développement Durable). During her PhD, she launched the first CentraleSupélec delegation to the UNFCCC process and participated in COP26 in Glasgow. 
Emma is also a student board member of the French Association in Energy Economics (https://www.faee.fr/). In 2021, she coordinating a series of Energy Economics webinars with 11 French universities.